Join us for bowling in an old factory hall at Powerarea Lemiers. The indoor entertainment centre in the Limburg (South of the Netherlands). Bowling in unique settings and the option of combining bowling with other activities.
Bowling is a suitable activity for young and old. And therefore suitable for families, groups of friends and team outings. We also have racks and bumpers for the youngest participants.
Up to 6 people can bowl on each lane at the same time. Are you looking for an activity for a bachelor party, kids birthday party, family day or outing with friends? Then you have come to the right place at Powerarea. With more than 9 activities under one roof, Powerarea is the perfect location for large groups.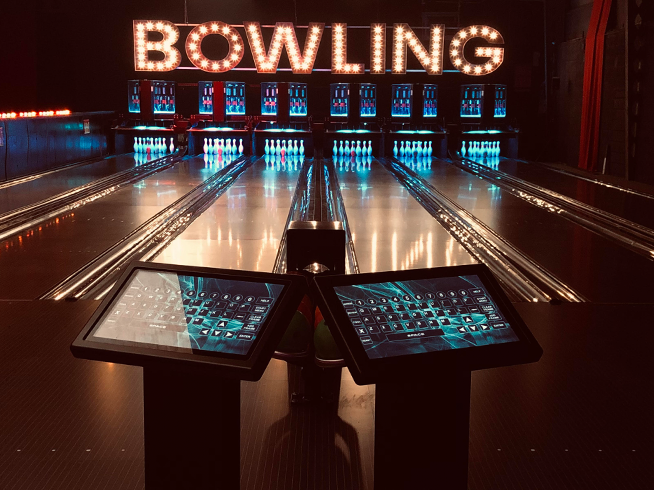 Choose from 1 or 2 hours of bowling

Maximum 6 players per bowling lane

Free rental bowlingshoes

Bar area for a bite to eat and a drinks

Combine with other activities

Kids birthday parties, family day, bachelor party, groups of friends
How many people are allowed to play on 1 bowling lane?
We have a maximum number of 6 people per lane. Powerarea has 6 bowling lanes. It is therefore possible to bowl with large groups at Powerarea.
From what age can I bowl?
Bowling is suitable for all ages. Racks and bumpers are available to make bowling easier for children. Please note! Only lightweight bowling balls may be used when using the bumpers.
Is it mandatory to wear bowling shoes?
Yes, at Powerarea you can use (loan) bowling shoes free of charge. Wearing socks is mandatory when using our bowling shoes. The smallest shoe size we offer is size 32. There is an exception for children with smaller shoe sizes. We kindly ask you to wear clean footwear and preferably sneakers in this situation.
From and up to what size do the bowling shoes go?
The shoe sizes of our bowling shoes range from size 32 to 49. Children with smaller shoe sizes may wear their own footwear. We request the use of clean footwear and preferably sneakers.